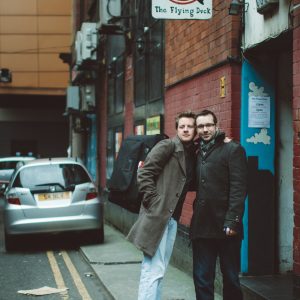 Fraser Shaw was a wonderful piper, whistle player and composer from Glasgow. He started playing the pipes at the age of 6, and at 16 moved to the Isle of Skye to study at Sabhal Mòr Ostaig. There, he formed the band Cluanas, along with fellow Gaelic students Mhairi Hall, Kathleen Graham and Ronan Martin.
In his early 20s, Fraser moved to the Isle of Islay, where his parents were then based. He worked in the Port Charlotte Hotel and organised regular music sessions in the hotel bar, eventually starting up the Islay Sessions, an annual November folk festival. During this time, he set up The Maverick Angels with John Somerville, Kevin O'Neill and Innes Watson. Regular appearances at the Islay Whisky Festival and legendary sessions in Port Charlotte saw them build up a loyal following on the island and lead to the band recording two albums of completely self-penned material.
Over the years, he was also very active in the Glasgow session scene, attending Celtic Connections and making regular appearances at the Ben Nevis session. In 2009 he made the move to the big city, working in merchant city's Cafe Gandolfi and running a regular Sunday session in Cairns Bar, and in later years, The Flying Duck. In October 2011, he was diagnosed with Multiple Sclerosis.
Fraser moved back to Islay in September 2012, where he remained until February 2015 when his illness became so debilatating, he was admitted to Southern General Hospital in Glasgow. Sadly, he had developed progressive multifocal leukoencephalopathy (PML), a rare but devastating disease.
A few years prior to this, Fraser had it in mind to release a book of his own compositions, the proceeds of which would go towards the MS Care Centre in Lochilphead, Scotland. Unfortunately, due to his health, this never came to fruition.
After Fraser's passing in May 2015, a group of friends and family started a Trust in his honour. The foremost aim of the Fraser Shaw Trust is to raise money for the relief of multiple sclerosis, particularly in Argyll, Scotland, through a series of projects and events celebrating Fraser and his music. The first project, was to release his much anticipated tunebook, along with an album comprised of his music.
Proceeds of the tunebook go directly towards the MS Care Centre in Lochilphead. Proceeds of the album are used for the advancement of education, arts and culture and for the relief of those living with multiple sclerosis in Scotland, particularly on the Isle of Islay.